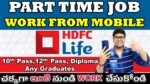 JOB ROLE: Financial Consultant
Location - Work from Home,PART-TIME
You are assigned a Manager. And  You will undergo a Training program to sell HDFC Life Insurance products and meet your goals.

You will Make attractive commissions and will get special incentives while you expand your reach. Raise your business as per regulatory provisions.

Flexible work hours

You can Choose where to work, when to work that means from your home or office.

You can work as per your own schedule
Education & Experience Required:
Must Be 18+
10th Pass
12th PASS
DIPLOMA
Any Graduation
No Experience
Very Good Communication Skills in English & Telugu.
Good convincing skills.
Passionate
You will Make attractive commissions and will get special incentives while you expand your reach. Raise your business as per regulatory provisions.
Smartphone is required  with good internet.