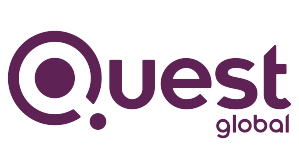 JOB ROLES: Intern Engineer
Quest Global is an organization at the forefront of innovation and one of the world's fastest growing engineering services firms with deep domain knowledge and recognized expertise in the top OEMs across seven industries. We are a twenty-five-year-old company on a journey to becoming a centenary one, driven by aspiration, hunger and humility.
We are looking for humble geniuses, who believe that engineering has the potential to make the impossible, possible; innovators, who are not only inspired by technology and innovation, but also perpetually driven to design, develop, and test as a trusted partner for Fortune 500 customers.
As a team of remarkably diverse engineers, we recognize that what we are really engineering is a brighter future for us all. If you want to contribute to meaningful work and be part of an organization that truly believes when you win, we all win, and when you fail, we all learn, then we're eager to hear from you
As a market research intern w you will be responsible to collect and analyse data and information to present to your manager for a making an informed business and product development.
Conducting primary and secondary market research through various new customer and services
 Developing and conducting surveys for our market research on our consumers & competitors in the marketplace and consolidating information into actionable items, reports and presentations.
Performing a targeted market research for our marketing department to provide insights that support their marketing decisions.
Support the marketing department in developing a clear understanding of their competitors.
The interns will work closely with their department heads to understand the implementation of the data collected through primary, and second research which facilitates the growth of the business and development of our product.
Strong desire and motivation to develop a career in Marketing or Sales
Strong leadership and team building skills
Ability to work independently and as a member of a cross-functional team
Ability to learn, be mentored, and improve
HOW TO CREATE YOUR RESUME
HOW TO CREATE NAUKRI.COM PROFILE
HOW TO CREATE LINKEDIN PROFILE