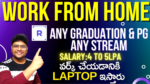 JOB ROLE :Business Development Associate
Location - PERMANANT WORK FROM HOME
You have to Take prospect from initial contact phase to qualified phase over the phone
You need to Present product solutions virtually.
You need to Generate revenue by counselling prospects and converting them to sales.
You have to Meet and exceed pipeline contribution goals
You should Respond quickly to assigned leads (No cold calling targets)
You are Willingness to be measured by weekly and monthly metrics.
You need to  Use and become an expert on the Customer Relationship Management (CRM) system.
Communication skills in English

Good Negotiation skills
Customer centric
HOW TO CREATE YOUR RESUME
HOW TO CREATE NAUKRI.COM PROFILE