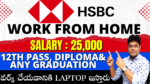 JOB ROLE :Customer Service Executive (Voice)
Location - HYDERABAD, WORK FROM HOME
Acquire and update knowledge on procedures on products.
Receive or make calls from or to customers (internal & external).
Provide information to customers based on requests made.
Use Call model effectively and work within Collections MOS Framework
Exhibit ownership of the business.
Customers/Stakeholders

Build rapport with customers.
Ensure that the productivity and quality levels are achieved as per the standards set for the process.
Defuse irate customers and resolve challenging inquiries utilizing negotiation skills while following guidelines in an effort to
Satisfy the customer.

Provide service to customers by focusing on resolving requests efficiently, accurately, and professionally.
Delight internal and external customers.
Leadership & Teamwork

Support achievement of team objectives.
Participate in development of cohesive teams.
Foster development of co-workers.
Contribute to the creation of a supportive work environment driven by people centric values.
Build professional relationships with colleagues in other areas
Operational Effectiveness & Control

Ensure that each call / work is completed in accordance with established procedures and standards.
Identify and escalate potential showstoppers
To implement Group Compliance Policy by containing compliance risk in conjunction with the relevant compliance department. The term 'compliance' embraces all relevant laws, rules and codes.

Typical Targets and Measures

Major Challenges

Ensure quality and productivity standards are maintained.
Ability to learn and implement the process updates or changes quickly and accurately.
Ability to understand and interpret numeric data.
Ability to multi task.
Role Context

Responsible for one's own performance. Required to ensure that the service levels are maintained at its optimum level.
Relationship building would be the focus of the role with an approach to improve on existing services provided.
Additional privileges and authority would be provided for the specified role. However, the job holder is restricted to the privileges provided within the process and should be abided by the procedures governing the same. The Assistant Manager Operations (Line manager) would be overseeing the day to day operational aspects and would also be seen as the mentor for personal development.
12TH PASS
DIPLOMA
Any Graduation
Any Stream
Communication skills in English & Telugu

Good Negotiation skills
Customer centric
HOW TO CREATE YOUR RESUME
HOW TO CREATE NAUKRI.COM PROFILE