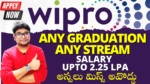 JOB ROLE 01 : STAR HIRING
JOB ROLE 02 : STEP UP HIRING
Fluent English is mandate.Without Fluent english you wont pass as you will need to clear VNA test .So please dont apply if you dont have fluent english.
Taking International calls for techncal support .
Rotational shift.
Work from home but WFO can start anytime. (WFO started in many locations)
Desired Candidate Profile Any graduate with fluent english.
Perks and Benefits BE/Btech fresher-2.2LPA (fixed CTC)
Other graduates-1.8LPA.(fixed CTC)
Who have experience they might get hike but till limited as this is freshers opening only.
SALARY: BE/Btech fresher-2.2LPA (fixed CTC) Other graduates-1.8LPA.(fixed CTC)
HOW TO CREATE YOUR RESUME
HOW TO CREATE NAUKRI.COM PROFILE