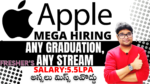 JOB ROLE :Annotation Associate
Location - Hyderabad, Telangana, India (PARTIAL WORK FROM HOME)
As part of the Siri Annotation Team.
You have to  play a central role in enhancing the Siri customer experience.
You need to  work in a fast paced, dynamic, technology focused environment. As an Annotation Associate.
You have to  listen and translate Siri audio files and rank levels of Siri response, from customers who have opted-in to the grading program.
You will use your business knowledge and analytical skills to evaluate responses against guidelines.
Your  are flexibility and the ability to prioritize tasks is essential. Because we believe our individual backgrounds, perspectives, and passions help us build the ideas that move all of us forward.
The Team will be Trained you to be an expert in understanding, supporting and improving the Siri experience.
Any Graduation
Any Stream
Fresher's
2020,2021 & 2022
Communication skills in & English

Good writing skills
Content  centric
Technical skills
Experience in content review or a similar environment
English reading, writing and comprehension skills
Excellent active listening skills with the ability to understand verbal nuances
Ability to independently navigate a technical environment
Excellent typing skills
Highly organized with strong attention to detail and excellent proofreading skills
Flexibility to respond and support changing priorities quickly and efficiently
Grows with a team where expertise is shared and feedback is welcomed
Prior testing experience is a plus
Knowledge of one or more of the following: iOS, PC or Mac experience and Siri preferred
HOW TO CREATE YOUR RESUME
HOW TO CREATE NAUKRI.COM PROFILE