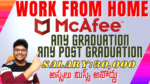 JOB ROLE :HR INTERN - REMOTE
Location - WORK FROM HOME
You will need to ensure best-in-class service is provided by the People Services team to the business by ensuring employees' queries and work requests are responded to professionally and within predefined Service Level Agreements (SLAs) using Live Chat and tickets on ServiceNow platform.
You are the front ending face of HR to the business as you will interact with employees on a day-to-day basis via Chat and ticket. You are the epitome of customer support.
You will need to ensure all HR transactions are processed on Workday system with 100% accuracy and efficiency.
 You will need to increase and promote the use of self-service by creating documentation to add to our HR knowledge database. You will also need to maintain process documentation to align with business process needs, statutory and regulatory changes.
You will build relationships across the business (both inside and outside the HR team) ensuring stakeholders are kept informed and where applicable, consulted, about process change requests that impact their area.
You will work in co-ordination with the Talent Acquisition team to ensure smooth Onboarding of new hires into the company.
 
Must have Bachelor's degree
Any stream
2018-2023 batch
Excellent oral and written communication and people interactions skills
Work independently and own the raised matter till closure
Comfortable working with flexible shifts including weekend. Comp off to be provided in lieu of this. It is 5 days working.
Must be able to communicate effectively at all levels within the organization
Ability to work flexible hours if needed to meet critical deadlines/ attend global meetings, as required.
Ability to positively adapt to process, business, or organizational changes.

e
HOW TO CREATE YOUR RESUME
HOW TO CREATE NAUKRI.COM PROFILE
HOW TO CREATE LINKEDIN PROFILE