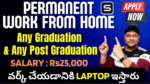 JOB ROLE :Market Research Executive
Location - PERMANANT WORK FROM HOME
1. You have to Conduct a viable market and industry analysis to identify accounts/companies.
2. You are going to Generate of a solid database with desired target market which must include the accounts from particular geography & industry, relevant contacts, and their contact information.
3. You need to Assist SDRs with their campaign with the desired number of databases.
4. You have to Meet monthly & quarterly targets.
5. You need to Mapping our offerings to the target market after understanding its characteristics.
6. You will Proactively work on identifying accounts/companies and niche contacts in the particular region.
7. You are going to Communication with the team to understand what their needs are.
8. You need to Generate reports on the database created & closely work with the sales, growth teams.
You need to have A basic understanding of primary & secondary research is required.
You must have Knowledge of working with tools like Excel, Google Docs, LinkedIn & Sales Navigator, Apollo, Rocket Reach, Lusha, Traxcn, etc.
I you have Good oral and written communication skills.
The selected person must be willing to learn and must have a proven track record of producing results.
HOW TO CREATE YOUR RESUME
HOW TO CREATE NAUKRI.COM PROFILE