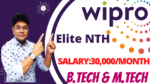 JOB ROLE: Project Engineer
Location - Partial Work from Home
Wipro's Elite National Talent hunt (NTH) is a  fresher's hiring program to attract the best candidates of 2021 and 2022 engineering graduates batches both B.Tech and M.Tech across the country.
They are giving equal employment opportunities for India's deserving engineering talent and are looking for you. 
The candidates applying for elite is an enthusiastic engineering student? Then Don't miss this opportunity to start your exciting journey with Wipro.
Registration Details
Registration  Date starts: May 2, 2022
Registration end Date: May 22, 2022
Online Test assessment: May 21 – June 5, 2022
B.E./B. Tech / M.E./M. Tech (5-year integrated course also allowed) full-time course recognized by the Central/State Government of India is allowed
All branches allowed except the streams Fashion Technology, Textile Engineering, Agriculture and Food technology
You must have 60% or 6.0 CGPA or equivalent as per your university guidelines
Only fulltime courses are allowed and No part-time or correspondence or distance learning education in degree, 10th or 12th
You must have 10th standard: 60% or above
You must have 12th standard: 60% or above
step 01 :Registration

Step 02 : Online assessment

Step 03 : Business discussion

Step 04 : LOI

Step 05 : Offer letter

Online Test is about 128 minutes consisting of  3 sections:

1.Aptitude Test: Logical Ability, Quantitative Ability , English (verbal) Ability. Duration: 48 mins

3.Written Communication Test: Essay writing. Duration: 20 mins4.Online Programming Test: Two programs for coding. Duration: 60 mins
Candidate can chose any one of these programming languages for the online programming test: Java, C, C++ or Python.