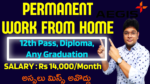 JOB ROLE : CUSTOMER SERVICE- CHAT SUPPORT
Location - WORK FROM HOME
The selected candidates need to handle Queries and Complaints of the customer very tactfully, provide excellent customer experience at every interactions and ensuring end to end by taking complete ownership for the customer via Chat support.

You  must be either a graduate or perusing graduation.
You should have excellent English communication and written skills.
You have to  work in 24/7 (Rotational shift ) environment.
You  should have Laptop/desktop with Windows 10 pro or Windows 11 and an good internet Connection with the speed of 20 mbps.
 You must have power backup if in case of power cut.
You should have Good Customer service skills and should display good analytical ability.
You must have prior experience in the BPO voice & Chat process shall be preferred and fresher's can also apply
You should be able to create work from home like environment at home.
your salary should be ranging between 13k to14k which should be finalized by us post interview for shortlisted candidates.
Must have Laptop or Desktop in your Home with Internet Connectivity.
12th pass
Diploma
ANY GRADUATION 
Freshers & Experienced
Any BATCHES 
Very Good Communication skills
good logical thinking skills
You must have Excellent written, verbal, listening, and analytical skills.
You Easily grasp and communicate complex ideas.
Must have excellent problem-solving skills.