OLA ELECTRIC MEGA INTERNSHIP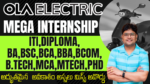 JOB ROLE : Intern - Ola Electric
Location - MULTIPLE LOCATIONS
You are going to Upgrading of Software 1.0.30 in Ola Scooters. During this internship you will learn and will be exposed to the following:

1. You must have Hands-on Experience on OLA Electric Scooter.
2.You will get  In-depth Technical Knowledge on OLA Electric Scooter.
3. You will get Knowledge on Vehicle Diagnosis/ Mobile Diagnosis Application.
4. You are going to work on Vehicle Testing on Software/Hardware level on OLA Scooter.
5. Yo need to Extensive Travelling across region required.
6. You are going to Customer Interaction and customer handling.
7. You will be receive Stipend based Internship.
8. You will get Electric Vehicles Functioning/working (OLA Scooter).
9. You will get Certificate on successfully completing the internship.
Stipend Offered:- INR. 15,200/- For one month paid at the end of the internship duration. Other than this only incase applicable to you, you will be entitled for Intra City travel max. capped at INR 4 per KM for Local travel and for intercity travel its max at INR. 400 per trip including tickets for hotel & stay + food included in this amount. The travel has to be arranged by the intern directly

*Mandatory Information Required :

– You Must be a Smartphone user
– You should Ready to travel and service customers with software updates,
– There is 3 hours of Job readiness training will be given before joining
– Offer letter will be released only after the training is successfully completed by the applicant
– You will receive Certification of Internship will be provided after successful completion of internship
– You will get 1 leave per week would be given on a rotational basis
–  The selected Candidates should not have any exams/classes for the next 30 days
– You Should be open to work in the location mentioned

Note: Please do not apply if you are not available to join immediately, or have classes/course to attend in any form of education requirement.
ITI,DIPLOMA,

BA,BSC,BCA,BBA,BCOM, B.TECH,MCA,MTECH,PHD
Communication skills in English

Good Verbal skills
SALARY: Not Mentioned15,200+ Allowances
HOW TO CREATE YOUR RESUME
HOW TO CREATE NAUKRI.COM PROFILE