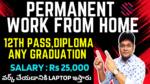 JOB ROLE 01 :TECHNICAL SUPPORT
Location - PERMANENT WORK FROM HOME JOB
Job Requirement-

Eligibility is a  mix of Graduate freshers or Undergraduate
You Need to have good knowledge in computers(Technical knowledge about hardware computers, eg RAM/ROM, types of Rams, SSD/HDD, Microprocessor etc
You must have good Typing Skills: 25 WPM/90% accuracy

Shift Timing/Days working

 

Its a 5 days working Mon-Fri/Sat & Sun-week off
You must have Shifts-24/7 rotational shifts /any 9 hours of shift
The job Process-Blended- Mix of Email Voice & Chat support 70% Voice/30% non voice
It is a Permanent work from Home/desktop will be given by the company post selection

You need to have fair knowledge of hardware computers(for eg: RAM/ROM, types/functions of RAMs, SSD/HDD, functions/characteristics of SSD/HDD, microprocessor, motherboard, where it is located, components of motherboard, Components of computer BIOS, memory, storage, devices and the full forms of all the abbreviations.

what is RAM/ROM, types/functions of RAMs?
what is the difference between SSD/HDD, what are the functions/characteristics of SSD/HDD?
what is cloud storage?
What would you do if you do not have internet on your laptop(prepare on the troubleshooting steps for the same)?
Your Windows machine is booting up slow, what are the possible solutions to this?
You have put SSD in a slot, but the slot is not working that what you will do?
Issues we access BIOS , DRAM generations, system configuration, SSD v HDD key features other than speed, system u?
BIOS, SSD and DRAM (Failure modes/reasons and fix for that)?
BIOS (what are the situations we use them)?
DRAM generations and mix match compatibility?
What is Dual Channel functionality?
Steps for installing memory in a laptop or mac book pro system?
What is case modding?
What is overclocking?
RDIMMs over UDIMMs?
candidates can share their updated CV on neha.qureshi@sutherlandglobal.com
12th pass
Diploma
Any Graduation
Any Stream
Any Batch
Communication skills in English

Good Verbal skills
Customer centric skills
Must have good Computer Hardware Knowledge
SALARY: Upto 25k expected
HOW TO CREATE YOUR RESUME
HOW TO CREATE NAUKRI.COM PROFILE